Asking for your partner's hand in marriage is one of the happiest and most special moments in any couple's life. You want it to be perfect—from the location you choose to the engagement ring you pick for the love of your life. Some even choose to go big and take their wedding proposals to a whole new level. You've probably heard some of them: skywriting a "Will you marry me?" message, popping the question via a giant billboard or proposing underwater.
Indeed, it has become a trend to propose in ways that are elaborate and in front of huge crowds. But you don't have to do any of these to make your own proposal extra special. If you and your partner like to keep things simple, private and intimate, you can very well opt to pop the question right in the comfort of your home. Before you search and shop for affordable engagement and wedding rings, decide on how you want your at-home proposal to go.
Here are a few ideas:
1. The Classic Ring-in-the-Dessert Proposal
It might seem cliché but this traditional proposal is something that your partner will surely love. After all, who doesn't love desserts? Combine delicious food with a marriage proposal, and voila!
Prepare a romantic at-home dinner just for the two of you. If you could, prepare the meals yourself. Chill your partner's favorite wine and light a few candles on the table to set the mood. When it is time for dessert, you know what to do.
Cakes and brownies make great desserts for this occasion. Make sure that you can easily hide the ring without it getting too sticky and messy. After your partner has taken a bite or two, the engagement ring will be discovered. Right then and there, take the ring, go down on one knee and pop the biggest question of your life.
2. The Treasure Hunt Proposal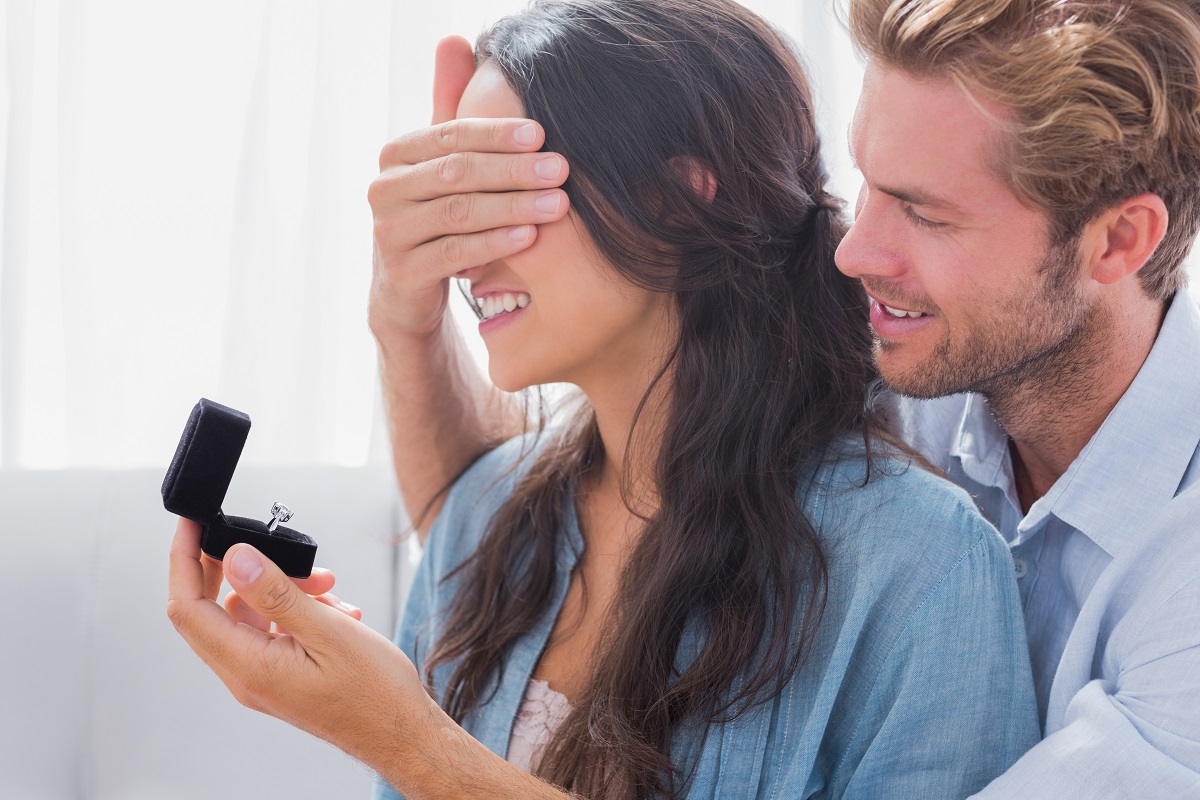 If you like to keep things light and fun, you can make a "game" instead—particularly a treasure hunt around your house. Give your partner clues, say, questions about what you both wore on your first date or where you went for your first anniversary. Let her take her time as she solves each clue.
Once she is finally down to the last clue and solves it, surprise her with the epic "Will you marry me?" question with the ring in your hand.
3. The Rose Petal Trail Proposal
Make a trail of rose petals around your house, with some of the petals containing short messages for your partner. You can cut out paper hearts, for instance, and then attach these little notes to the petals.
You can write one reason you love her more every day on each paper heart. You can also write your favorite moments together. The trail should lead right to you, perhaps in your bedroom, where you will be down on one knee, ready to pop the question.
You do not have to go over-the-top to surprise the love of your life. Keep it simple, private and sweet; there's nothing wrong with that. After all, what matters here is that you make your partner feel your love.